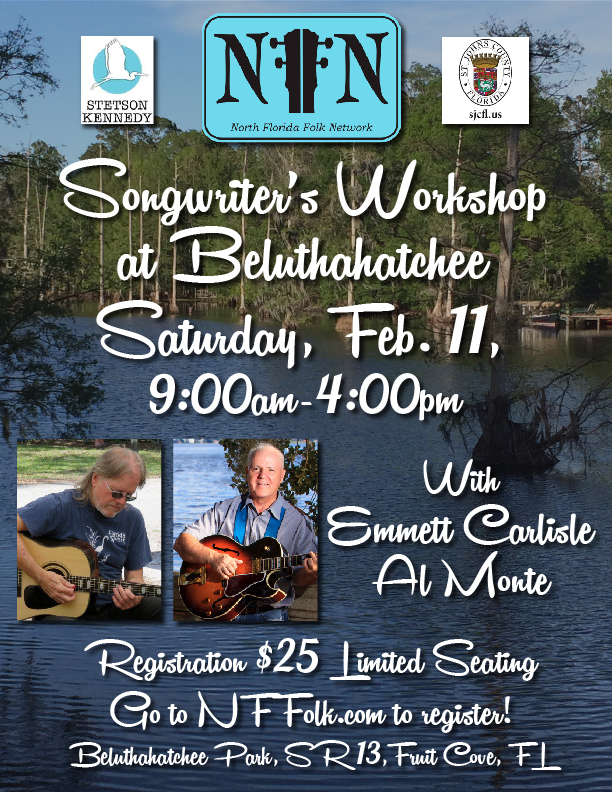 NFFN SONGWRITER WORKSHOP REGISTRATION
FEBRUARY 11, 2023 (9:00 AM - 4:00 PM)
Calling all aspiring Songwriters! Please mark your calendars for Saturday, February 11th, 2023 for the first North Florida Folk Network Songwriting Workshop! This workshop will be led by two accomplished and amazing NFFN songwriters, Al Monte and Emmett Carlisle. We encourage you to come join us, meet other songwriters, and be inspired!

This event will be held from 9:00 am – 4:00 pm, in the Hart Building on the sacred grounds of Beluthatchee Park, located at 1519 State Road 13, Fruit Cove, FL 32259, where activist, writer and naturalist Stetson Kennedy used to live.
The Hart Building features a tranquil view and intimate setting overlooking beautiful Lake Beluthatchee, and is the place where the monthly concert series, 'Second Sundays at Stetson's' is held.
All songwriters, including aspiring songwriters, are welcome at this workshop. Emmett & Al will explore the songwriting process from their unique perspectives, and work with each student to help develop a work in progress, review a completed song, or simply answer questions.
Students should bring their instrument and their written songs in progress, if available.
Registration is a $25 donation, which can be prepaid via credit card below.
Signup is limited to the first 20 Songwriters, and the deadline for registration is February 1, 2023, or until filled. A wait list will be created if needed.
There will be free coffee, tea, water, and assorted pastries available in the morning. Songwriters are asked to bring their own lunch and desired non-alcoholic beverages.
Composition books and pens will also be provided.
Beluthahatchee is the home of Stetson Kennedy, Florida civil rights and environmental activist. It is also the location where Woody Guthrie wrote his literary work "Seeds of Man" as well as several of his songs. Woody and Stetson maintained a friendship throughout their lives. Beluthahatchee is on the National Historic Registry for both Stetson's and Woody's literary achievements.
Beluthahatchee (Stetson Kennedy's home) was dedicated as the only National Literary Landmark honoring two writers. Stetson Kennedy's friend and folksinger Woody Guthrie wrote his autobiography Seeds of Man there. Stetson Kennedy is the author of Palmetto Country, The Florida Slave, Southern Exposure, Jim Crow Guide to the USA, and many other books.
This workshop is sponsored by the North Florida Folk Network, the Stetson Kennedy Foundation, and St. John's County Parks and Recreation.
For more information contact NFFN President, Cindy Bear at This email address is being protected from spambots. You need JavaScript enabled to view it. or text/call (904) 626-2829.
WORKSHOP REGISTRATION FORM