Sundays at Stetson's with Emmett Carlisle and Bear & Robert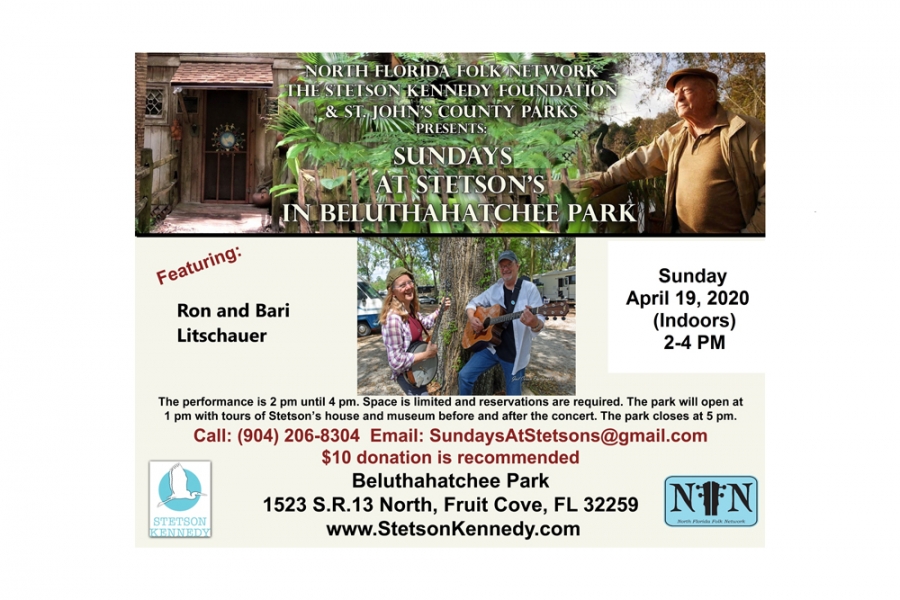 July 14th, 2019 2-4pm
Emmett Carlisle and Bear & Robert to perform Second Sunday at Stetson's
A monthly concert program at Beluthahatchee
Please call (904)206-8304 for reservations.
Second Sunday at Stetson's
A monthly concert program at Beluthahatchee
July 14, 2019
St John's County, Fl. –
Award winning Florida Singer/Songwriters Emmett Carlisle, and Bear and Robert will perform at the next Second Sundays at Stetsons concert in Fruit Cove, FL. The event will be held at Beluthahatchee, the home and museum of author and activist, Stetson Kennedy, is the venue for the monthly concert series entitled "Sunday at Stetson's." This special performance also falls on the birthday of Woody Guthrie, who was a close friend of Stetson Kennedy.
The performance is from 2-4 pm on Sunday, July 14, 2019, at Beluthahatchee Park, located at 1523 State Road 13, Fruit Cove, FL 32259. Space is limited and reservations are required, so please call (904) 206-8304 and leave a message. A $10 donation is recommended. The park will open at 1 pm, with tours of Stetson's house and museum before and after the concert. Park closes at 5 pm.
"We are proud to present a double billing this month at Stetson's with Bear and Robert along with Emmet Carlisle" said Al Poindexter, producer of the monthly concert series. "Florida is rich with quality singer-songwriters who observe music roots traditions and the principals of the Stetson Kennedy Foundation" continues Poindexter, "This concert promises to have a variety of styles, songs and creativity that you don't hear anywhere else."
Emmett Carlisle is a Florida boy working on his 8th CD of original songs. His music has been described as a sweet mixture of Americana, Florida Folk, Blues-grass, and Folk rock love songs about the history, environment, and characters of the Great State of Florida. Emmett plays most of the big Festivals in Florida, such as the Will Mclean, Gamble Rogers, Florida Folk Festival, and Sarasota Folk Festivals, the Clay County Fair, and many venues around the State. His CD, "Higher Hopes, Bigger Dreams," was awarded the Songwriter CD of the Year by the Jacksonville Times-Union. He is all about the music and the love to his fans, and is considered the "Gentleman of Florida Folk music."
Bear and Robert (row-bear) are Cindy Bear and Franc Robert, an award winning singer-songwriter duo from Jacksonville, FL. Together their acoustic sound has been described as a deep well of Folk, Blues, and Americana with a high energy je ne sais quoi! Their original songs about everything from the human condition to Florida history, along with their catchy melodies, toe tapping rhythms, and soulful lyrics will touch your heart in many different ways, and leave you wanting more. Since joining forces in November 2015, Bear & Robert have become a "must see" at major music festivals all over the state and beyond, and in August 2019 they will ascend their act to the international level in Canada! Their new CD, "Hearts in Blues," was released in April 2019, and they are currently working on their next CD of original Folk songs. www.bearandrobert.com
Beluthahatchee was dedicated as the only National Literary Landmark honoring two writers. Stetson Kennedy's friend and folksinger Woody Guthrie wrote his autobiography Seeds of Man there. Stetson Kennedy is the author of Palmetto Country, The Florida Slave, Southern Exposure, Jim Crow Guide to the U.S.A. and other books.
Music and performers for the monthly series "Sunday at Stetson's" will be in line with the causes of the Stetson Kennedy Foundation of human rights, social justice, environmental stewardship, and the preservation and growth of folk culture.
The concert series is sponsored by the North Florida Folk Network, the Stetson Kennedy Foundation, and St. John's County Parks.
For more information contact: Al Poindexter at This email address is being protected from spambots. You need JavaScript enabled to view it. or call (904) 610- 4507.