2nd Sundays at Stetson's FMFI Benefit Concert & Food Drive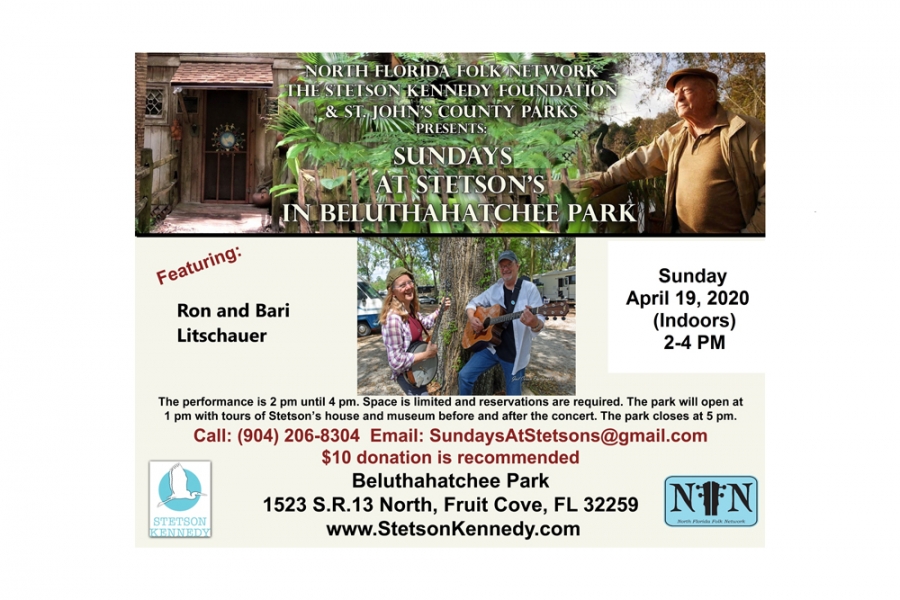 Sunday December 8th, 2019
FMFI Benefit Concert & Food Drive-
Sundays at Stetson's
A monthly concert program at Beluthahatchee
Please call (904)206-8304 for reservations.
Florida Music Food Initiative Performers play
Second Sundays At Stetson's at Beluthahatchee
St John's County, Fl. – Some of Florida's finest award winning singer-songwriters from the Florida Music Food Initiative, Inc. (FMFI) will be our featured artists in the 5th annual special holiday benefit concert and food drive in the next Second Sundays at Stetson's series. Paul Garfinkel, Larry Mangum, Mary Beth Campbell, Ellen Bukstel, Bear and Robert, and Emmett Carlisle will perform songs from the two CD's that the FMFI has produced to help feed our hungry and homeless in Florida.
The concert will be indoors on Sunday, December 8, 2019 from 2 pm to 4 pm at Beluthahatchee Park, 1523 State Road 13, where author, activist, Stetson Kennedy lived and visited with Woody Guthrie.
Space is limited and reservations are required. Please call (904) 206-8304 and leave a voice message. A $10 donation is recommended. The park will open at 1 pm with tours of Stetson's house and museum before and after the concert. The park closes at 5 pm.
Each member of the audience is asked to bring one or more items of non-perishable food. The food will be donated to the Mandarin Food Bank, and CD sales/proceeds are split between Feeding Florida (formerly known as the Florida Association of Food Banks), and the Florida Coalition of the Homeless. Non-perishable pet food is welcome too, and will be donated to the Jacksonville Humane Society.
The FMFI was formed for the purpose of producing a collection of songs by Florida songwriters for CDs to generate funds in support of individuals and families experiencing hunger and homelessness here in Florida. The organization has produced two CD's of music toward this goal.
The first CD Am I My Brother's Keeper? was released in 2012 and Stay Positive was released almost two years ago. Stay Positive "is full of positive inspiration, love, hope and encouragement" according to Paul Garfinkel, also an FMFI writer and performer. He goes on to say that the title "has so much meaning on so many levels; encouraging others to stay positive through difficult times and maintaining the positive works of FMFI in helping the hungry and homeless in Florida." More information about FMFI can be found at http://www.floridamusicfoodinitiative.org/
Beluthahatchee was dedicated as the only National Literary Landmark honoring two writers. Stetson Kennedy's friend and folksinger Woody Guthrie wrote his autobiography Seeds of Man there. Stetson Kennedy is the author of Palmetto Country, The Florida Slave, Southern Exposure, and Jim Crow Guide to the U.S.A. and many others.
Music and performers for the monthly series "Second Sunday's at Stetson's" will be in line with the causes of the Stetson Kennedy Foundation of human rights, social justice, environmental stewardship, and the preservation and growth of folk culture. http://stetsonkennedy.com
The concerts are sponsored by the Stetson Kennedy Foundation, The North Florida Folk Network (NFFN) and the St. Johns County Parks.
For more information contact Al Poindexter at This email address is being protected from spambots. You need JavaScript enabled to view it.