Sundays at Stetson's with Nicholas Edward Williams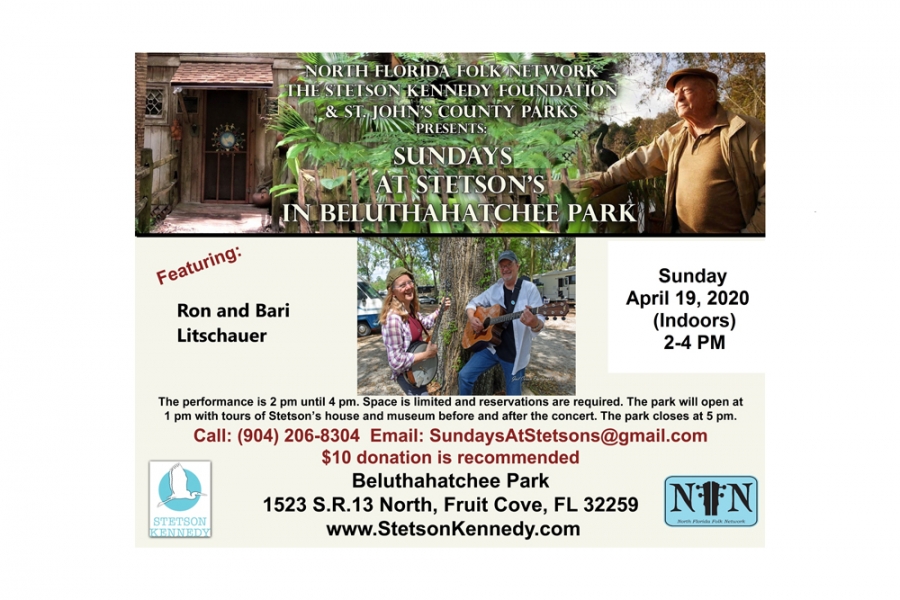 Sunday October 20th, 2019
Nicholas Edward Williams

to perform at Sundays at Stetson's
A monthly concert program at Beluthahatchee
Please call (904)206-8304 for reservations.
Tuesday, September 10, 2019
FOR IMMEDIATE RELEASE
St John's County, Fl. – International touring storyteller Nicholas Edward Williams will be our next featured performer at the monthly folk series called, "Second Sundays at Stetson's. Kennedy dedicated his life to human rights, social justice, environmental stewardship, and the preservation and growth of folk culture.
The performance will be on the third Sunday of the month, October 20, 2019 from 2 – 4 pm at Beluthahatchee Park, 1523 State Road 13.
Please call (904) 206-8304 to make reservations, as space is limited. A $10 donation is recommended. The park will open at 1 pm with tours of Stetson's house and museum before and after the concert. Park closes at 5 pm.
A recent transplant to Chattanooga, TN after many years of living on the road full-time, Nicholas Edward Williams blends American folk songwriting with travis-style fingerpicking, melodic vocals, contemplative lyrics, rolling harmonica, whistling and a stomp box, and creates a sound that feels familiar, yet new. The 34 year-old has amounted a wealth of a his performing career under his debut folk moniker "Whetherman", opening for critically acclaimed acts such as Taj Mahal and The Wood Brothers, as well as releasing eight full-length albums while touring extensively throughout US and Europe since 2007.
"If Doc Watson, Mississippi John Hurt and John Prine had a lineage, you would find it in the bloodstream of 34 year-old international nomadic storyteller Nicholas Edward Williams." "Nomadic folk told through a contemplative lens." -Paste Magazine
Beluthahatchee (Stetson Kennedy's home) was dedicated as the only National Literary Landmark honoring two writers. Stetson Kennedy's friend and folksinger Woody Guthrie wrote his autobiography Seeds of Man there. Stetson Kennedy is the author of Palmetto Country, The Florida Slave, Southern Exposure, Jim Crow Guide to the USA, and many other books.
Music and performers for the monthly series "Second Sunday's at Stetson's" will be representative of the values of the Stetson Kennedy Foundation: human rights, social justice, environmental stewardship, and the preservation and growth of folk culture.
The concert series is sponsored by the North Florida Folk Network, the Stetson Kennedy Foundation, and St. John's County Parks.
For more information contact Al Poindexter, 904 610 4507 or This email address is being protected from spambots. You need JavaScript enabled to view it.